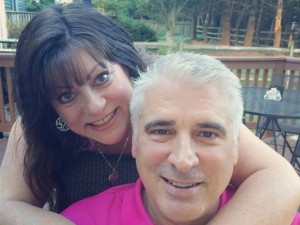 Our Ministerial Staff
Pastor John Lorenzo and his wife, Lori

Angie McGuigan, Ministry Assistant
Dan Sheffield, Pastor
Pastor Dan has been serving First Baptist Church of Aberdeen since the end of August, 2011. He is Director of Missions for Susquehanna Baptist Association, where he has served since 1984. Dan and his wife, Debbie, have three grown children and five grandchildren. Dan is an ordained Southern Baptist minister. He is a graduate of Mercer University, Texas Tech University, and Southwestern Baptist Theological Seminary. He has served as a missionary for the North American Mission Board of the Southern Baptist Convention for over thirty years
John Lorenzo, Associate Pastor
Pastor John has been serving as Associate Pastor for First Baptist Church of Aberdeen since the Fall of 2015. Prior to then he served as Associate Pastor for the Church at Riverside, in Belcamp, MD. John and his wife, Lori, have two grown children, Ryan and Taylor. John works full-time for Boyle Buick in Abingdon, serving voluntarily as our Associate Pastor. John and Lori have served together with Dan and Debbie for a number of years on church staff and on international mission teams.
Angie McGuigan, Ministry Assistant
Angie has managed the church office since the end of August, 2011. She also serves as the Ministry Assistant for Susquehanna Baptist Association, of which our church is a part. Angie and her husband, Dan, live in Port Deposit and are members of First Baptist Church of Perryville. They have two grown children, Danielle and Andrew, whose wife is Rachel.
Restart
First Baptist Church of Aberdeen voted in the Summer of 2011 to dissolve and give all of its assets to the Susquehanna Baptist Association for the purpose of restarting as a new church. Director of Missions for the Association, Dan Sheffield, took on the responsibility of leading the restart. He decided that in order to preserve the 60 year history of the church, the restarted church would continue as First Baptist Church of Aberdeen, with a renewed vision for reaching the city of Aberdeen with the Gospel of Jesus Christ, and an expanded vision of becoming actively involved in missions throughout the world. We would love for you to join our efforts or at least to come visit us and get to know us. If you are actively involved in another church, we would like to encourage you to continue serving the Lord where you are, but to please pray for us as we attempt to reach people for the Lord!
Our Mission & Vision
The mission of First Baptist Church of Aberdeen is to share the Good News of Jesus Christ with the people of Aberdeen and throughout the world. We work to accomplish our mission by becoming involved with the people of our community, sending mission teams to help share the Good News of Jesus Christ in other areas of the world, and financially supporting local, state, national, and international mission work.
What we believe:
Our beliefs are best expressed and Scripturally supported by The Baptist Faith and Message 2000.
Our Affiliations:
First Baptist Church of Aberdeen is a member of Susquehanna Baptist Association, and is affiliated with the Baptist Convention of Maryland/Delaware, and the Southern Baptist Convention.